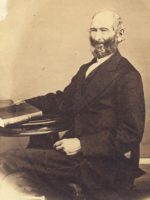 Who should be welcome in our services? I must admit that I hadn't realized that this question had been addressed so early in our history. It might seem obvious today that everyone is welcome (though I believe many LDS wards are unconsciously not welcoming), but D&C section 46 suggests that this idea wasn't initially true.
The current Come Follow Me lesson covers Doctrine and Covenants sections 46 to 48, which address this question of being welcoming, as well as the topics of spiritual gifts, keeping a history and sharing the lands we own — although this last concept, from section 48, is barely addressed in the lesson. Fortunately, I've found Mormon poetry that address all of these topics.
Welcome to Worship with Us
It may be that many of us are so accustomed to our form of worship that it has lost the worshipful tone and feeling that it should have. If so, then this poem by Edward Partridge may help. This Edward Partridge is not the first Bishop of the Church, who passed away in Nauvoo in 1840, but is likely his son, Edward Partridge, Jr., who served as a Bishop in Fillmore, Utah and as the Mission President of the Hawaiian Mission when this poem was written. He later served as President of the Utah Stake (in Provo) from 1895 until his death in 1900. The universal nature of our worship clear in the first line of the poem, urging "all" to "unite" and sing.
A Hymn
by Edward Partridge (1884)
Come, let us all unite and sing,
Before we bow in prayer,
And praise the Lord, our Heavenly King,
And thus our hearts prepare.
Oh may our minds be drawn away
From worldly cares just now,
That we may worship Thee, our God,
While at Thy feet we bow.
We'll pay our morning sacrifice
To Thee in Jesus' name,
For mercies shown the night that's past,
And thank Thee for the same.
Now, while we worship at Thy feet,
And praise Thee for the past,
We ask Thee, Lord, to bless us still,
From eldest unto least.
Oh, let Thy blessings show'r around,
By day and also night,
Not only us, but all Thy Saints
Who in Thy law delight.
Oh, may our days be lengthened out,
As long as we desire,
Then we, Elijah-like, arise
In chariots of fire.
Spiritual Gifts
After commanding that we be welcoming in our worship, Section 46 goes on to discuss spiritual gifts and their role in blessing the children of God. And that concept is found in the following 1847 Welsh poem, whose author was not indicated in the original publication in Prophwyd y Jubili (The Prophet of the Jubilee), the Church's publication in Wales at that time. The translation into English is from Ronald Dennis, who translated the entire contents of this early newspaper into English.
Y Doniau Ysbrydol

Syndod mawr os oes undyn–—yn Walia,
Na wel hyn fel llinyn:
Dyma rym pob gorchymyn,
Ewyllys da, a lles dyn."

Fe roddodd Duw nrwyddion o fewn ei eglwys gynt,
Er mwyn ei chadw'n drefnus a hwylus ar ei hynt;
Ond yn yr oes bresennol maent megys pinau drain,
Crefyddant yn esmwythach a rhwyddach heb y rhai'n.

A ehan i Dduw eu rhoddi o'i wir anfeidrol ras,
Gwae'r neb a fo'n rhyfygu trwy geisio'u tynu ma's
Pwy bynag na fo'n arddel y doniau oll yn llym,
Nid yw ond rhith o grefydd, ac wedi gwadu ei grym.

I bwy y mae'r addewid? Oes lle i gael gwyhod hyn?
Oes, oes, o fewn y 'sgrythyr i'w wel'd mewn dû a gwyn:––
I chwi a'ch plant yn gynta', ond dyma newydd gwell.
Chwi welwch mae'r addewid yn cyrhaedd pawb yn mhell.

Tra fyddo Duw yn galw, y mae'r addewid hon
Yn gadarn yn ei reol fodd breiniol ger ein hron;
Ond er mai Duw sy'n galw, mae miloedd yn ein hoes
A wada'r addewidion gan greulon dynu'n groes.

Mae traddodiadau dynol heb reol o'r iawn ryw,
Yn lle mwynhau rheolau a deddfau pur ein Duw,
Yn arwain rhai i wyrni, a phob rhyw gulni câs,
A'u dala ynghanol dwlni, gan groesi trefen gras.

Pwy bynag fyddo'n dcall y 'sgrythyr fel y mae,
Cyhoeddir uwch eu penau, bob melldith ffol a gwae.
Mae dernyn esboniadol yn boddio aml un
Yn well na'r addysgiadau o enau Duw ei hun.

Os sonia neb fod doniau i'w cael tu fewn dy byrth,
Dechreua'r bobl waeddi, paham na wnewch chwi wyrth?
Fel hyn ceir gwel'd eu hysbryd, a'i brofi yn ddifeth,––
Mae hanes eu tad diafol yn gofyn yr un peth.

Ni cheir, 'rwy'n siwr, ddim gwyrtbiau, er boddio mymnwy dyn;
Pan y gofynwyd iddo, fe ballodd Crist ei hun.
Yr Ysbryd Glân sy'n rhoddi y gallu yn ddible,
I'r sawl mae'n ewyllysio, a'r man y myno 'fe.

Dywedwch beth yw'r achos, onid ydyw hyn yn chwith,
Na chredem ni brophwydi tra fyddont yn ein plith?
Yn mhen rhyw faith ganrifoedd, fe'u credir gan bob gradd,
Ond os bydd rhai'n ein canol, nid llesiol heb eu lladd.

Darfyddai ffol ddadleuon rhwng pawb o ddynolryw,
Pe cym'rent hwy eu dysgu, yn deg gan Yshryd Duw,
A derbyn y dystiolaeth lefarodd ef, bob darn;
Mae'n gadarn ar y ddaear, mae'n gadarn yn y farn.




The Spiritual Gifts

A great surprise if there is one man—in Gwalia,
Who does not see this as a standard:
This is the power of every commandment,
Good will, and benefit to man."

God gave signs in his primitive church,
To keep it sound and orderly on its way;
But in the present age these are as thorns,
To those whose faith is smooth and easy.

And since God gave them from his true infinite grace,
Woe to anyone so insolent as to try to extricate them;
Whoever does not avow all the gifts ardently,
Has nothing but a mirage of religion, having denied its power.

To whom is the promise? Is there a place to know this?
Yes, yes, within the scriptures to be seen in black and white:—
To you and your children first, but here is better news.
You see the promise reaches all afar.

While God is calling, this promise
Stands firmly as a privilege before us;
But though it is God who calls, there are thousands in our age
Who deny the promises by cruelly contradicting.

Human traditions, without order of the true kind,
Instead of enjoying the pure rules and rites of our God,
Lead some astray, with every kind of evil bigotry,
And hold them in the midst of foolishness, against the order of grace.

Upon the heads of those who follow scripture true,
Every foolish curse and woe will be proclaimed.
A partial explanation will satisfy some
Better than the teachings from the mouth of God himself.

If anyone mentions that gifts are to be had within thy gates,
The people begin to shout, why do not you do miracles?
Thus can their spirit be seen, proving it unfailing,—
The chronicle of their devil father asks the same thing.

There will be, I am sure, no miracles, to please the whim of man;
When asked, Christ himself refused.
The Holy Ghost gives the power without doubt,
To those he wishes, and wherever he will.

Say what is the cause, is this not strange,
That we do not believe the prophets while they are in our midst?
In centuries to come, they will be believed by every class.
But while they are among us, they're useless if not killed.

The foolish arguments among all humanity would cease,
If they would be taught, fairly by the Spirit of God,
And receive the testimony he spoke, every bit;
It is strong on the earth, and strong in the judgment to come.
History
When Joseph Smith asked John Whitmer to serve as the first Church Historian, the latter hesitated. While I don't have any indication of why he hesitated exactly, the following poem portrays some of the reasons why the recording of history is important, difficult, and even uncomfortable.
Poet Hannah Tapfield King was an English convert to the Church. Although her husband never joined the Church, he did immigrate to Utah with her and their children in 1853. King was heavily involved in the literary and political life of Utah. She worked on women's issues, publishing an account of the protest against the Cullom bill in 1870. King was one of the members of the Polysophical Society of Salt Lake (founded by Eliza R. Snow and Lorenzo Snow), and her writings and poetry were found in the Juvenile Instructor and the Woman's Exponent. She published at least 3 volumes of poetry, including an epic poem portraying the history of the Church and the gospel.
This poem, published in The Contributor in 1881, manages to touch on many history-related topics.
Reminiscences
by Hannah Tapfield King
Memory, like music, steals upon the ear,
And wraps us in the visions of the past.
Silence oft is eloquence! and while the
Lip moves not, the heart and soul are bowed
In worship at a consecrated shrine,
Composed of admiration and respect,
Memory holding still her mystic reign,
And gathering the Past into her store;
'Till, culminating at a point, the door
Of language is unsealed, and tries to tell
The garnered thoughts, long there as relics lain;
Its rosary too is sacred held, on which
Are daily counted well-remembered
Scenes and forms, gestures, actions, words and looks,
Making palpable ONE who is not dead,
But passed behind the Veil o'ershadowing
Mortal Vision, mortal touch, or hearing!
June! Yes June, the glorious, regal month,
When earth was strewn with flowers, and the sun
Shone forth in full effulgence, bright and warm
And Spring put on her crown and courtly robe—
A robe in all the varied colors gay:
With wreaths of beauteous flowers on her head,
And gems of morning dew studding each one;
In all the rich profusion June displays!
And in her grand and queenly step went forth,
And stretching out her beauteous arms received
Within their circling fold a baby boy!
Just struggling into life! She caught him up,
And printed on his check a zephyr kiss;
And said her presence never should depart
From out the atmosphere surrounding him!
Even that the June should be infused
Within his infant soul in coming life!
She'd throw her genial influence around
His earthly path, and smile on him for aye!
His name should indicate immortal youth,
And tho' on earth his years should many be,
He still, through all, should be forever YOUNG!
That age should beautify, and not destroy,
That Time should have the power to renovate,
His eye should not be dim, nor hair turn grey,
His mind illum'd and clear should ever be;
That wives, and children should from him receive
The patent brand that made them ever YOUNG!
And that his name should far and wide be great,
Around the circumnavigated globe;
That friends in truth and love should round him cling,
And even foes should feel the mystic charm,
As serpents, dumb, before the charmer lie!
And One above endorsed His handmaid's word's,
And sealed them with Jehovah's signet ring!
• • • • •
And forth he went upon the earth, and met
A spirit even mightier than his own!
They looked into each other's eyes and saw,
They clasped each other's hand and knew,
That God to them a mission on this earth
Had pre-ordained, and given them to bear
To every nation, every land and clime!
And hence, they laid the rudimental plan,
And carried out the angel's words to them!
And organized Christ's Church on earth,
No more—no, nevermore to be thrown down!
This history all have read—by practice know.
Time rushes on with almost noiseless stream,
And bears us on the bosom of its wave:
Long years have passed—that treasured one is gone!
The June has come and gone, and come again,
And Memory rises from her thousand cells,
And in phantasma brings the past once more
Like "Banquo's Ghost" before the peering mind.
And we in thought live o'er the times of old,
And after that, the future rises up!
And Revelation slightly draws the veil,
And Faith, and Mope, and Love we do behold!
Come forth to Mess, and comfort, and sustain
Those left on earth, oft dreaming on the past;
Waiting reunion in the heaven above,
With all those lost on earth—and gone before!
Sharing Land
Section 48 addresses the difficulty that the Church faced as more and more members immigrated to Ohio to be in the gathering place of the Church. Like most immigrants, they often arrived without many resources, and the sudden influx of people was making land to house them difficult to obtain. So section 48 urges Church members to share what they have, including the very land that they owned, so that these members would also be welcome to worship with the main body of the Saints. I don't think it is difficult to draw parallels to today, especially given the unwillingness of many today to share what they have, willingly or through government, with anyone, refugee, immigrant or even those who live among us.
The following poem, by William W. Phelps, addresses the gathering, looking both at the original "gathering" of Israel to the promised land, and at the biblical prophesies about gathering many. Particularly interesting are the fourth and fifth stanzas, in which those gathered are foreigners, from Moab and Elam (the latter is hundreds of miles from the holy land). And those foreigners are to "receive a share in the blest land." Phelps goes on to express a unity among those gathered, who will "all our pow'rs in one combine / To sing thy praise in songs divine."
The Gathering
WHAT wond'rous things we now behold,
Which were declar'd from days of old
By prophets, who in vision clear
Beheld those glories from afar.
The visions which the God,
Confirm'd by his unchanging word,
That to the ages then unborn
His greatest work he would perform.
The second time he'd set his hand
To gather Israel to their land,
Fulfil [fulfill] the cov'nants he had made,
And pour his blessings on their head.
When Moab's remnant, long oppress'd,
Should gather'd be and greatly blest:
And Ammons children, scatter'd wide,
Return with joy, in peace abide.
While Elam's race a feeble band,
Receive a share in the blest land;
And Gentiles, all their power display
To hasten on the glorious day.
Then Ephraim's sons, a warlike race,
Shall haste in peace and see their rest,
And earth's remotest parts abound,
With joys of everlasting sound.
Assyria's captives, long since lost,
In splendor come a num'rous host;
Egyptia's waters fill'd with fear,
Their power feel and disappear.
Yes, Abram's children now shall be
Like sand in number by the sea;
While kindreds, tongues, and nations all
Combine, to make the numbers full.
The dawning of that day has come,
See! Abram's sons are gath'ring home,
And daughters too, with joyful lays,
Are hast'ning here to join in praise!
O God, our Father, and our King,
Prepare our voices and our theme;
Let all our pow'rs in one combine
To sing thy praise in songs divine.