Years ago I had fantasies of writing a book on the history of Latter-day Saint fertility. That dream has been put on hold, probably until after my kids are out of the house (and there's more data), but before I realized it wasn't going to happen in between a day job and a large young family I inputted the number of children each General Authority had in a spreadsheet to look at time trends in General Authority family size. Because of their prominence, General Authority families(whether they want to or not) serve as a sort of archetypal template for the lifecourse decisions of orthodox members, so I was curious about the extent to which their family sizes tracked the changes in society across time. 
Some caveats: I inputted this data about six years ago, plus the site I was using doesn't appear super up-to-date, so there may have been recent changes in patterns that aren't going to get picked up. At the time, there were 416 General Authorities on that website, with 14 missing number of children information (which I know I could dig up if I put in enough effort, but for now the 416 should be sufficient), so this provides a reasonably comprehensive sense of overall trends. 
The first graph shows overall trend across the whole history of the Church (excluding the pre-polygamy General Authorities).
Because of the highly fertile outliers, the Y-axis is stretched out and it is difficult to discern a trend in the post-polygamy General Authorities, so I included a second graph just with General Authorities born from 1880 on.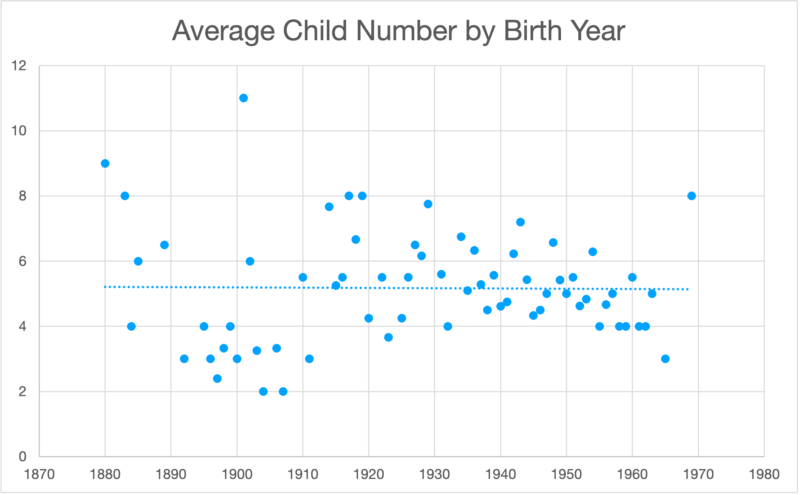 While there is a clear decline in the average number of children per General Authority as polygamy declined, starting with about the 1880 birth cohort average General Authority family size bottomed out at a little more than five and a half children, and has basically remained the same ever since. Given the ages General Authorities are typically called, that means that from about 1920 on the people sitting up on the stands in General Conference have historically had about the same family sizes as their counterparts at any other time after 1920. This finding was surprising; I expected General Authorities to at least kind of track the massive declines in fertility that have happened in the US since then (including in the Church), but that doesn't appear to be the case (again unless it has happened in the past ten years).  
Fun facts: two non-polygamous General Authorities had 14 children (Alonzo Hinckley and Rey L. Pratt). The General Authority with the most number of children was Heber C. Kimball (65).