To the degree that members of the Church live the gospel and follow the counsel of the prophets, they will, little by little and even without noticing it, become sanctified. Humble members of the Church who conduct daily family prayer and scripture study, engage in family history, and consecrate their time to worship in the temple frequently, become Saints.[1]
Note: Note: This is a part of an ongoing series, the Mexico Mission Hymns Project.
Hymn Text:
"Venid, Hermanos" by José V. Estrada G. was published initially in the 1912 edition of the Mexican mission hymnbook, though it did not make the cut past the 1933 edition of the same hymnal.  It bears a similar name and the same author as the previous hymn discussed in this series ("Hermanos, Venid"), though it is a distinct hymn.  The original edition indicates that it was intended to be sung to hymn 87 from The Songs of Zion, which was "How Firm a Foundation."  In this case, the same tune is used for "How Firm a Foundation" in the current hymnal.  It took me a bit to figure out how to do the translation, since rather than using an iambic meter (every other syllable is stressed), it uses a dactyl-based meter (every third syllable is stressed).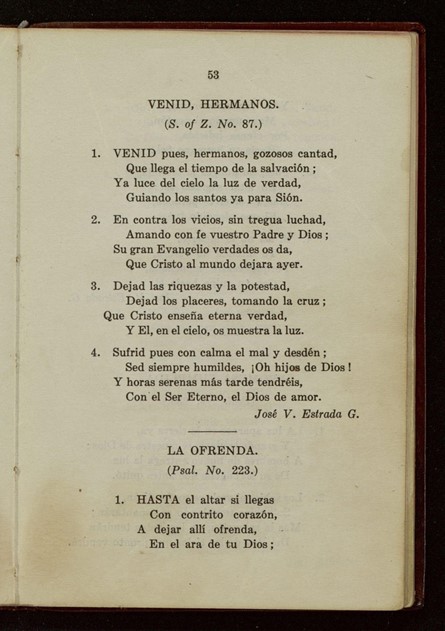 Figure 1. The text of "Venid, Hermanos" in the 1912 hymnal.
Table 1. Translation of "Venid, Hermanos"
Spanish
Prose English
Poetic English
Venid pues, hermanos, gozosos cantad,

Que llega el tiempo de la salvación;

Ya luce del cielo la luz de verdad,

Guiando los santos ya para Sión.

Come then, brothers, sing joyfully

That the time of salvation has arrived;

The light of truth shines from the sky,

Guiding the saints to Zion.

Oh come, then, my siblings, and sing with great joy:

The time of salvation has now come to hand,

The light of God's truth shines from heaven above,

And guides all the Saints to great Zion's bless'd land.

En contra los vicios, sin tregua luchad,

Amando con fe vuestro Padre y Dios;

Su gran Evangelio verdades os da,

Que Cristo al mundo dejara ayer.

Fight against vice without truce,

Loving with faith your Father and God;

His great gospel truths gives you,

That Christ left the world yesterday.

Come fight against vice and all sin without truce,

While faithfully loving your Father and God;

For all of His Gospel and truths that they give,

That Christ left the world in the past while he trod.

Dejad las riquezas y la potestad,

Dejad los placeres, tomando la cruz;

Que Cristo enseña eterna verdad,

Y El, en el cielo, os muestra la luz.

Leave riches and power,

Leave the pleasures, taking the cross;

That Christ teaches eternal truth,

And He, in heaven, shows you the light.

Oh leave all your riches and leave behind pow'r,

And leave earthly pleasure while taking the cross;

For Christ teaches truths of eternal account,

And He, from the heavens, shows you light sans costs.

Sufrid pues con calma el mal y desdén;

Sed siempre humildes, ¡Oh hijos de Dios!

Y horas serenas más tarde tendréis,

Con el Ser Eterno, el Dios de amor.

Calmly suffer wrongs and disdain;

Always be humble, O children of God!

And you will have peaceful times later,

With the Eternal Being, the God of love.

Now calmly we suffer all wrongs and disdain;

And always be humble, oh children of God!

And you will have days of great peace later on,

With the God of love, the Endless One we laud.
Music:
Here's how the hymn might have appeared if printed with music in 1912: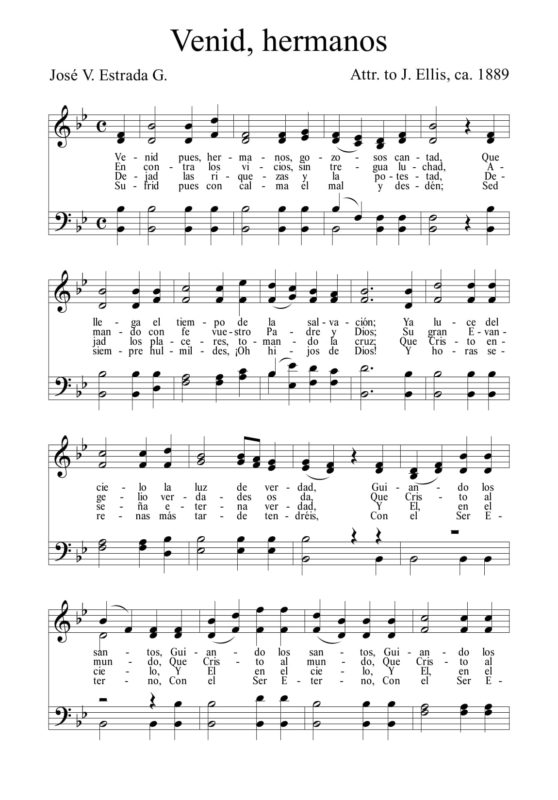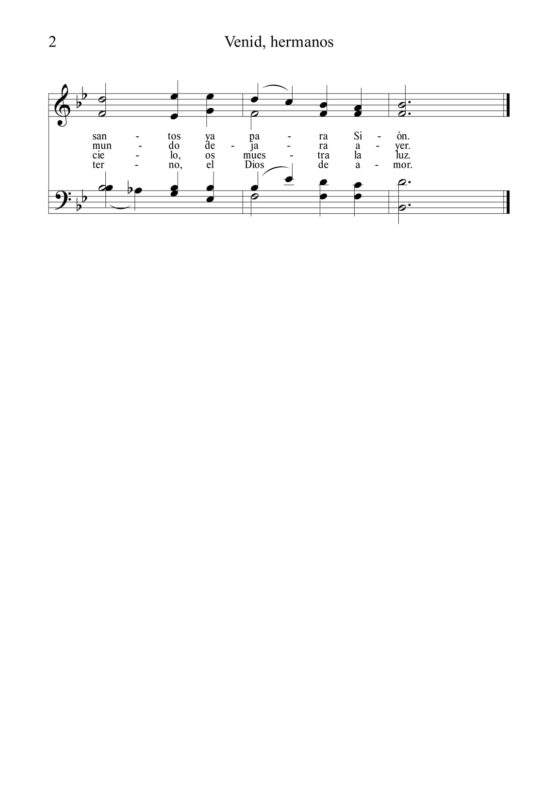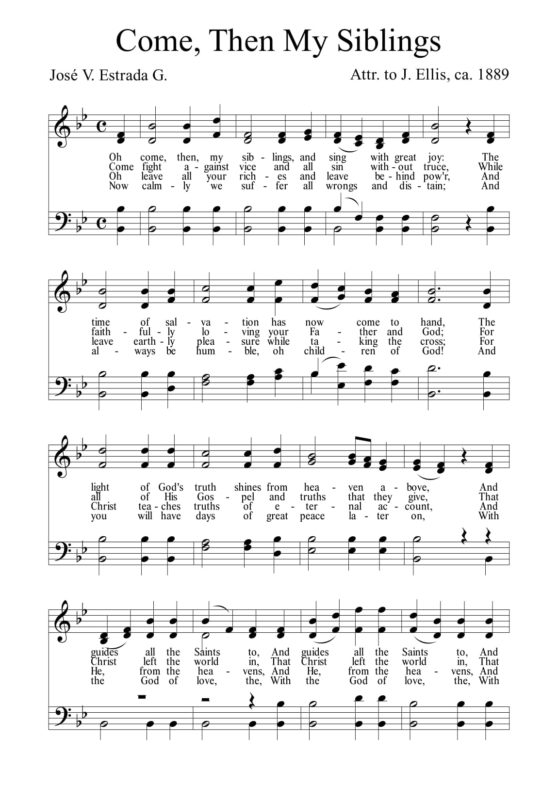 New Music:
And here is my take on music for the hymn.  I wanted to do something bright, cheery, and upbeat for this one.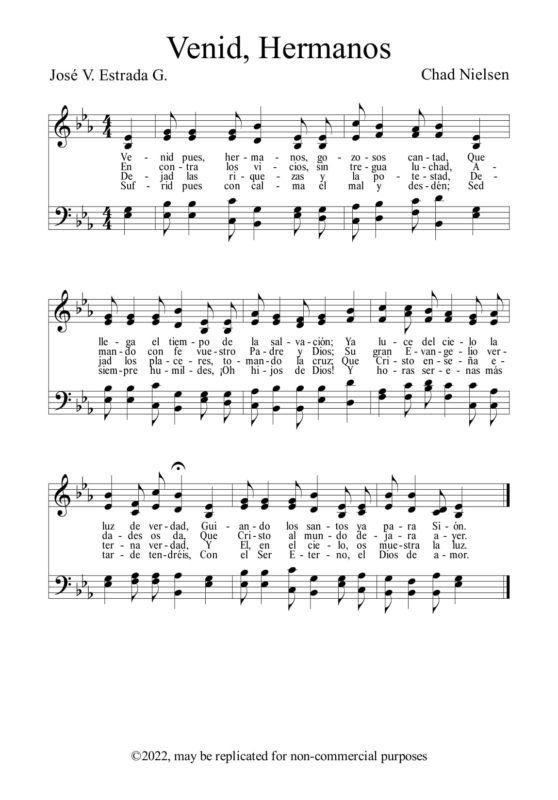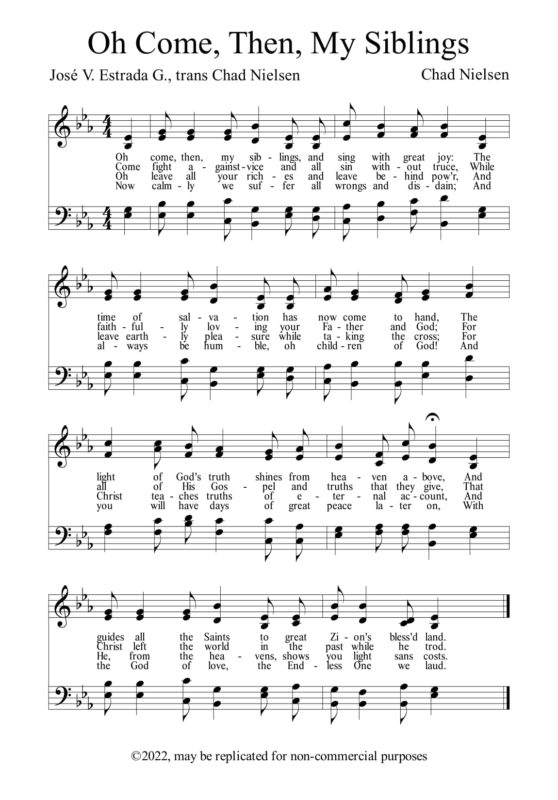 Footnotes:
[1]  Benjamín De Hoyos, "Called to Be Saints," CR April 2011, https://www.churchofjesuschrist.org/study/general-conference/2011/04/called-to-be-saints.p18?lang=eng
---
The text of this post is available for modification and reuse under the terms of the Creative Commons Attribution-Sharealike 3.0 Unported License