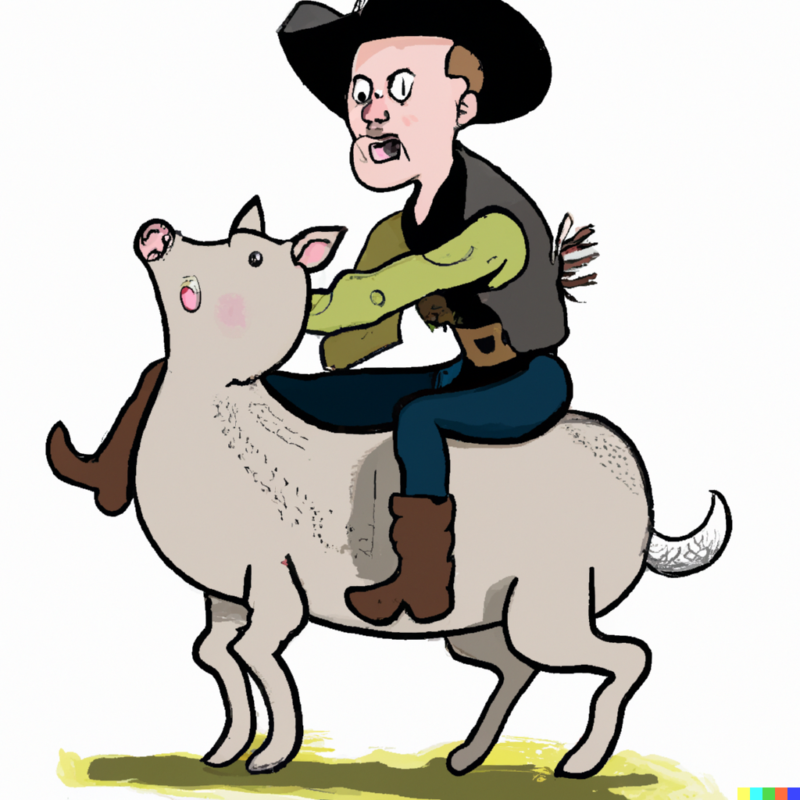 Cowboy riding a tapir, from DALL-E
In some fields scholars try to come up with novel takes on the same thing hundreds of their colleagues have studied. Non-genetic, physical anthropology only substantively moves forward now whenever a fluke well digger stumbles upon humanoid remains. Particle physics is kind of nipping at the edges until the next big collider comes online, after which there are thousands of people scrambling to analyze the exact same data. Macroeconomics has theorized and modeled all available macro-level data to death. Oh, and the poor Biblical scholars are trying to come up with novel takes on a relatively small amount of text that has been thoroughly analyzed for thousands of years by thousands of people. That's not to say that these aren't noble pursuits, just that it's hard to see much novel and truly zeitgeist-shifting coming out of these fields in the next hundred years. This isn't the scholars' fault, it's just the nature of the subject matter. 
I think we're at the same place with the old apologetics debates. The past 40 or so years have been foundation forming as new arguments and counter arguments have been proffered, but at some point, when the original material that all that is based off of is in stasis, you'll eventually come up with every point that could possibly be made about a particular datum, and then it's just a matter of whether you buy it or not. 
Maybe a new document may come to light that puts a slight twist on something, but as a I've noted many times before the chance of that happening decreases significantly the farther out we get from the events in question. No, the future of apologetics in the apologetics/critics debates isn't from novel arguments, but rather in the presentation thereof. The Letter to a CES Director wasn't impactful because of anything new it said, but rather because the author seemed like the first person in that space that understood the basic principles of graphic design and communication, while traditional critics and apologists wanted you to force you to spend an hour schlogging through some arcane, dense text. 
A word on "pastoral apologetics." I suspect this is one of those things that means different things to different people, but whatever the case there will always be a place in a vibrant Latter-day Saint community for defenses of the existence of actual ancient plates. Commentary that moves away from the hard truth claims and into abstractions is wonderful, but inasmuch as it attempts to act as a substitute, and not as a complement, to traditional apologetics, it naturally raises the question of whether its proponents actually believe in the truth claims or are trying to use continental philosophy or religious studies as some sort of a pivot away from and ultimate replacement for the traditional faith. Inasmuch as it's the former it won't last very long and won't be a major part of the Latter-day Saint discourse in the year 2080, but I don't need to keep beating that dead tapir.
As technology changes media over the next 50 years the advantage will go to those who are more savvy about communicating their material (while not an apologetics organization per se, I've spent some time working for Mormonr, because I like their formatting and more pithy approach). This will be something of a moving target, as it is difficult to know now what kind of media spaces will be available and popular in 2080.