At the start of each year, there is a whole collection of publications that enter the public domain. This year is a relatively big year for people interested in Latter-day Saint song books, since the 1927 Latter-day Saint Hymns, along with a few other song books (the 1927 edition of the Primary Song Book and some anthem collections) are now public domain.
As a bit of background and context, in the early 20th century, The Church of Jesus Christ of Latter-day Saints formed an official music committee of professional musicians to oversee the production of a new hymnal for Church use. By 1920, there were a variety of hymn books and song books in use by the Church. The Church published the twenty-fifth edition of what had originally been the Manchester hymnal in 1912 and the Latter-day Saints' Psalmody was still in use as the official tune book. An unofficial hymnal known as Songs of Zion that had been compiled for use in the mission field was proving extremely popular and the Sunday School continued to produce their own very popular song book, the Deseret Sunday School Songs. To address the proliferation of hymnals, President Heber J. Grant oversaw the organization of a committee of twelve Church members, including the patriarchs of Mormon music, George Careless and Evan Stephens, that would regulate musical affairs in the Church. This committee, known later as the Music Department, existed from 1920 to 1977 and oversaw the production of two major hymnals (the two generations prior to the current hymnal).
During his ministry as president of the Church, President Grant emphasized that "the kind of songs the Lord likes" were those that were doctrinally correct, going as far as stating that "no individual singer, or organization of singers, in the Church, should ever render a selection unless the words are in full harmony with the truths of the gospel, and can be given from the heart of the singer."[1] He was even known to state that certain songs should be marked as "condemned."[2] Based on his directions, the music committee sought to create a hymnal that reflected Grant's desire for "songs of the heart" that were consistent with current Latter-day Saint theology.
Officially, the committee was assigned to rework the Latter-day Saints' Psalmody with the goal of making it more appealing to general Latter-day Saint membership, along the lines of the successful Songs of Zion and Deseret Sunday School Songs song books. They selected hymns to eliminate on the basis of being rarely sung, doctrinally unsound, or simply poor quality. Initially, they proposing to eliminate eight-five works and to change the music for a similar number of hymns. This music committee held contests for hymn writing to increase the number of hymns available. These contests were most often won by Evan Stephens (surprise!), though the emerging composer Leroy Robertson also had a strong showing. The process of revision took years, and much like the revisions to the Articles of Confederation resulted in an entirely new work (the Constitution of the United States), the revisions of the Psalmody resulted in an entirely new hymnbook called the Latter-day Saint Hymns.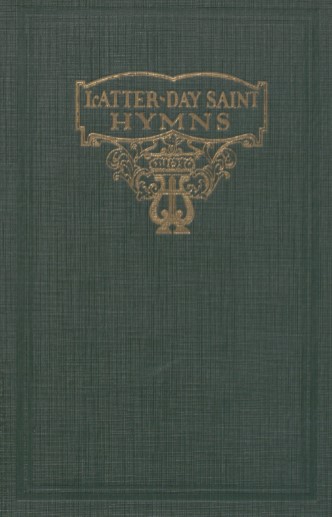 This new hymnbook, often called "the green hymnbook," had 421 settings of hymns (at least from the second edition onwards), 84 of which were written by Evan Stephens and 63 of which were by George Careless. The style of music was more upbeat and cheerful than the Psalmody had been, though many pieces that were better suited to choirs than congregations were still included. Despite his criticism of the popular genre of revival-style gospel hymns as cheese cloth music, Evan Stephen's works were often reminiscent of the bouncy style associated with the very hymns he criticized. Although not included in that particular hymnbook, his hymn "Let Us All Press On" is a well-known song that exemplifies the gospel song style. This, he declared, was necessary to showcase the Mormon gospel in music, with its spirit of "optimism and not pessimism … [or] gloomy solemnity."[3]
Shifts in doctrinal focus resulted in shifts in the focus of hymns as well. Millennialism and communitarianism were largely absent, with a greater emphasis on personal spiritual experiences taking their place. Overall, the new hymnbook was more modern than its predecessors and, according to Elder B. H. Roberts, had transcended both the "solemn grandeur of Vatican…music" and the "hysterical thinness" of revivalism.[4]
---
Here is a list of hymns that were new to Latter-day Saint hymn books, with ones included in the current English hymnal in bold. (Thanks to Samuel Bradshaw at singpraises.net for the analysis.):
Again, Our Dear Redeeming Lord (Theodore E. Curtis)
Arrayed in Light (Orson F. Whitney)
As Babe on Mother Breast (Orson F. Whitney)
Before Thee, Lord, I Bow My Head (Joseph H. Dean)
Beware a Fiend in Angel Form (Orson F. Whitney)
Bring, Heavy Heart, Your Grief to Me (Herbert S. Auerbach)
Christ is Born, the Joyful Story (Evan Stephens)
Come, Come, My Brother, Wake! Awake! (Joseph Fielding Smith Jr.)
Come Sing to the Lord (Come Sing to the Lord)
Come unto Him (Theodore E. Curtis)
Crown the Conquerors Homeward Coming (Orson F. Whitney)
Does the Journey Seem Long? (Joseph Fielding Smith Jr.)
Enthroned Upon the Verdure-Covered Hills (Orson F. Whitney)
Farewell, Old England! (Orson F. Whitney)
Father! Lead Me Out of Darkness (John A. Widtsoe)
Give Me a Home in the Heart of the Mountains (Theodore E. Curtis)
God Is in His Holy Temple (Anon.)
God Loved Us, So He Sent His Son (Edward P. Kimball)
God of My Fathers! Friend of Humankind! (Orson F. Whitney)
Hail, Cumorah! Silent Wonder (Theodore E. Curtis)
Hail to the Prophet Who Pointed the Way (Orson F. Whitney)
Hark! How the Gospel Songs (Evan Stephens)
Have Faith, Ye Saints (Herbert S. Auerbach)
How Long, O Lord Most Holy and True (John A. Widtsoe)
How Pleasant to Mingle Together (Ruth May Fox)
I Trust Thee, Lord, Tho' Long the Way and Dim (Bertha A. Kleinman)
In Thy Temple, Great Jehovah (Herbert S. Auerbach)
It Is Not Death Though We Fade and Die (Bertha A. Kleinman)
Jesus of Nazareth, Savior and King (Hugh W. Dougall)
Joseph the Prophet, Martyred Saint and Seer (Orson F. Whitney)
Keep the Light that God Has Kindled (Orson F. Whitney)
Lean on My Ample Arm (Evan Stevens)
Let Each Man Learn to Know Himself (Philip de la Mare)
Let Us With a Gladsome Mind (John Milton)
Lift Up Your Praise in Parting Song (Bertha A. Kleinman)
May Sweet Peace and Joy from Heaven (Evan Stephens)
May the Holy Spirit's Fire (Lula Greene Richards)
May the Lord Go With Us (Evan Stephens)
Midway of Life, in Meditative Mood (Orson F. Whitney)
Most Holy Spirit, We Ask Thee Ere We Part (Leroy J. Robertson)
Not Understood. We Move Along Asunder (Thomas Bracken)
O Balmy Mountain Air! (Evan Stephens)
O Star Divine! When Dusk Lies on the Land (Bertha A. Kleinman)
O Wondrous Mercy! Wondrous Love! (Evan Stephens)
Oh, Sheep of Israel, Pause and Behold (Theodore E. Curtis)
Oh, Sing of Redemption from Conflict and Sword (Bertha A. Kleinman)
Raise Your Voices to the Lord (Evan Stephens)
Sacred the Place of Prayer and Song (Evan Stephens)
Savior, Again to Thy Dear Name We Raise (John Ellerton)
Savior, Redeemer of My Soul (Orson F. Whitney)
Shadows are Gathering as Round the Board (Evan Stephens)
Sweet is the Hour When Thus We Meet (Evan Stephens)
Tenderly Wipe the Bitter Tear (Evan Stephens)
The Best is Not Too Good for Me (Joseph Fielding Smith Jr.)
The Earth was Shrouded Deep in Gloom (Evan Stephens)
The Sabbath Sun Serenely Falls (Theodore E. Curtis)
The Shades of Night are Falling (Theodore E. Curtis)
The Voice of God Again Is Heard (Evan Stephens)
The Wintry Day, Descending to Its Close (Orson F. Whitney)
The Wrinkled Brow of Time (Orson F. Whitney)
There Are Who Deem Earth's Hour of Durance (Orson F. Whitney)
They Have Passed Hence, But They're Not Lost Forever (Karl Victor Bettermann)
Thou Art Everywhere Before Us (Theodore E. Curtis)
To Grow for Him, Tho' Lowly Ways Be Mine (Bertha A. Kleinman)
To the Regions of Rest Where the Blissful Abide (Orson F. Whitney)
To Use the Gifts Thou Gavest Me (Bertha A. Kleinman)
We're Proud of Utah (Theodore E. Curtis)
We Thank Thee, Gracious Lord of Hosts (Theodore E. Curtis)
While of These Emblems We Partake, Dear Lord (Ida H. White)
Why Should I Falter—O Saviour of Mine? (Bertha A. Kleinman)
With One Accord, We'll Sing Thy Praise (Samuel B. Mitton)
Zion Arise! the Dark Clouds are Falling (Theodore E. Curtis)
Zion's Children Sing for Joy (Evan Stephens)
---
Sources
[1] Conference Report, April 1931, 132, and "Sing Only What We Believe," Improvement Era, July 1912, 786-787.
[2] See Michael Hicks, Mormonism and Music: A History (Urbana and Chicago: University of Illinois Press, 1989), 129-130.
[3] Evan Stephens, "Songs and Music of the Latter-day Saints," Improvement Era 17 (June 1914): 760, 765, 767.
[4] B.H. Roberts, Comprehensive History, 6:245.
The text of this post is available for modification and reuse under the terms of the Creative Commons Attribution-Sharealike 3.0 Unported License