While members of the Church are known for our large families, anecdotally it has seemed that Latter-day Saint childbearing has been cratering and that we've been losing a lot of our fertility advantage. The problem is, getting robust, current childbearing metrics requires a fairly large sample size because it requires capturing enough women who have had a child in the past year to get reliable numbers, and surveys that ask about religion aren't even close to being large enough.
So here I use Census Bureau data. Specifically, I'm assuming that if Latter-day Saint fertility (quick aside, for non-medical demography "fertility" means childbearing, not the ability to bear children) has been catering we'd see it in the numbers of Utah County and Madison County, Idaho (the county where BYU-Idaho is). Here I look at changes in the Total Fertility Rate. Without going into too much of the math, the TFR is the number of children across her lifetime a woman would have if she was exposed to all of the age-specific childbearing rates of that given year. In other words, if she lived her entire life in a setting like the year 2021, that's how many children she would have. Here I use the ACS 5-year estimates for 2021, 2016, and 2011 for TFR. (My calculated US TFR is just a hair above the published estimates. I'm not sure, but I suspect that this is because I'm including the 45-50 age bracket when some TFR calculations count up until 45, or maybe our cutoff dates are different).
As seen, in the past ten years there has indeed been a decline in childbearing, but it looks comparable to the decline in the US more broadly. Madison County appeared to have stalled for a five-year period, but the sample size is small enough population-wise that there's probably some noise involved there. Surprisingly to me given stereotypes about BYU-Idaho students, Madison County actually has a lower fertility rate than Utah county, although I don't know how much of Madison County is BYU-Idaho.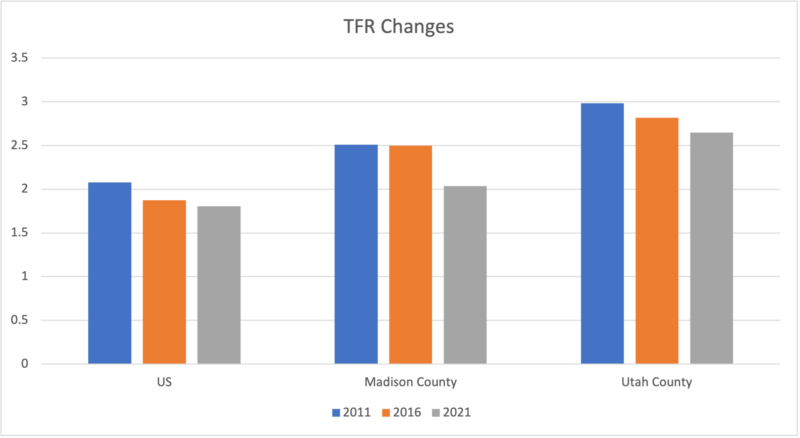 So my conjecture was wrong. Latter-day Saint fertility probably hasn't been declining much faster than US fertility in general. (This is especially true if some of the decline in Utah County's fertility is due to a decrease in the percent Latter-day Saint.) We're essentially following national trends.